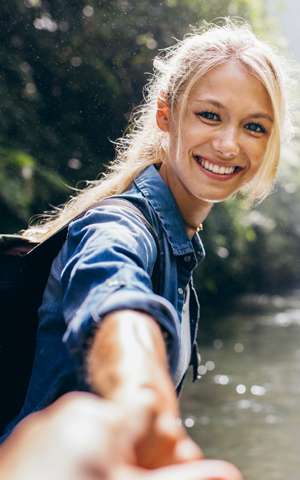 Have you dreamed of getting a brighter, straighter smile, but feel like it's unobtainable? With the many cosmetic dentistry services we provide at Basin Dental, we can help bring your dream smile to life! Our team is trained and equipped with the tools and technology it takes to improve almost any cosmetic dental problems.
Cosmetic Dentistry Procedures
There are a number of reasons you may seek a cosmetic dental procedure. Maybe your teeth are slightly or severely discolored, or perhaps you want to cover any misshapen or stained teeth.
Whatever your reason for wanting to improve your smile, Basin Dental has plenty of services that could help you:
Veneers | Whether your teeth are discolored, chipped, worn-down, irregularly shaped, or even just have large gaps between them, veneers may be a great option for you. They are made of a very thin porcelain or resin composite created to look like your natural teeth. A veneer is bonded to the surface of your original tooth and should stay there for 10–15 years if cared for properly.
Teeth Whitening | We offer professional in-office teeth whitening, using the Venus White system. We also offer take-home Opalescence whitening to be used at your own convenience. Both Venus White and Opalescence are highly effective at safely creating a brighter smile. We'll help you determine which option may be best for your teeth.
Dental Crown | A dental crown is an excellent option for restoring oral health, and it can also help create a beautiful smile. A crown is made to cover your original tooth, while maintaining a natural appearance. It can be used to cover cracked, chipped, broken, or irregularly shaped teeth. Crowns may also be a good option to fill in large gaps.
Contact Basin Dental for a Team Who Cares
Our team at Basin Dental cares about creating the smile you've always wanted. Share your vision with us, and we'll help you achieve it! Call or visit us today to learn more about how we can help you.