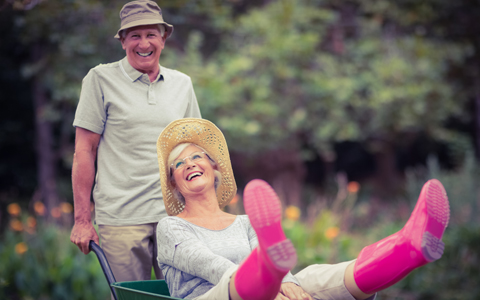 Are you sick of working around missing teeth? Do you feel uncomfortable smiling or speaking in front of others because of all the empty spaces in your mouth? Dentures can help you look and feel better. At Basin Dental, we can help fit you with the dentures that will be just right for you, whether you are missing all or just some of your teeth.
Types of Dentures
Dentures are a stand-in for your natural teeth, as well as the mouth tissue. There are two types of dentures: complete—or full—and partial. Complete dentures are appropriate for those missing all of their teeth or who need all of their teeth removed, while partial dentures are a great option for people who still have some of their natural teeth.
Dentures are removable, but they are made to stay in your mouth while you eat and speak. As long as they fit properly, they should only come out when you purposely remove them.
Why You Should Choose Dentures at Basin Dental
Advances in dental technology have made it so that dentures have never been easier to wear than they are now! You won't be wearing the same type of dentures you may have seen your parents or grandparents wear. Here are a few reasons you should choose dentures if you are missing teeth:
Improved Speech | It may take some time to get used to speaking with dentures, but soon you will be able to talk like you normally would. Dentures make it easier to enunciate and avoid slurring.
Better Smile | Get a full smile once again with dentures! These artificial teeth are made to look natural, so they shouldn't be noticeable to others. Dentures will also help keep your face from appearing sunken or sagged.
Easier to Eat | Perhaps you've been avoiding some of your favorite foods because they were too hard to eat with your missing teeth. With dentures, you'll be able to eat more of the foods you want! We will help you determine which foods to avoid in order to keep your dentures in great shape.
Greater Self-Confidence | Once you have a complete smile again, your self-confidence can increase. You can feel more confident speaking, eating, and smiling in front of others.
Durability | Dentures typically last 5–10 years. After that time, they often need to be replaced due to daily wear and to ensure they fit your changing mouth.
Dentures can help you get back to a normal, natural-looking smile again. Contact us today to see how you can benefit from a restored smile with dentures.
Restore Your Smile With Dentures From Basin Dental
Learn more about dentures and whether they are right for you. Call Basin Dental today to set up an appointment with our highly trained team!