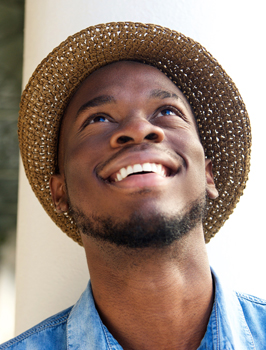 If you have damaged or missing teeth, it may be hard to imagine having a complete, beautiful smile again. With dental crowns, it's possible!
Here at Basin Dental, we create quality dental crowns using our CEREC machine. CEREC—Chairside Economical Restoration of Esthetic Ceramics—is a dental system that uses amazing technology to create dental restorations in just hours, instead of days or weeks.
With the help of computer-aided design and manufacturing (CAD/CAM), we can quickly get an impression of your tooth and make a restoration that matches your original tooth. When you need a dental crown, there's no better place to turn than Basin Dental.
What Is a Dental Crown?
A dental crown is a cover for your original tooth, made to provide lasting strength. It is bonded to your original tooth, replicating the original size and shape. A dental crown may be necessary if you have a broken, chipped, or cracked tooth. It can also protect a weak tooth or a tooth with a large filling.
If you need to have root canal therapy or a dental implant, a dental crown may be placed over your original tooth. Dental crowns can even be used for teeth with large gaps or severe discoloration.

Why Should I Get a Dental Crown?
Dental crowns offer several benefits, including the following:
Natural Appearance | Dental crowns are made to look like natural teeth. They will take on the size, shape, and color of your original teeth.
Optimal Protection | Keep your teeth safe after a procedure or damage. A dental crown can prevent problems from growing and help further damage from occurring.
Impressive Longevity | Dental crowns can last between 10–30 years if cared for properly.
Improved Comfort | Eat and speak more comfortably with the help of a dental crown. With this restoration, you will no longer have to work around dental issues.
How Does the Process Work?
The first step to receiving a dental crown is preparing your tooth. Once it is ready, we will use our CEREC machine to create a model of your tooth. Our milling unit will then cut a crown that will be placed into your mouth upon completion. We'll do our best to ensure that the restoration fits properly, then we'll have it polished and bonded onto your natural tooth.
Come See Our Talented Team in Roy Today
Call Basin Dental today to learn more about dental crowns and our CEREC technology. Our team will help determine if a dental crown could benefit your oral health.