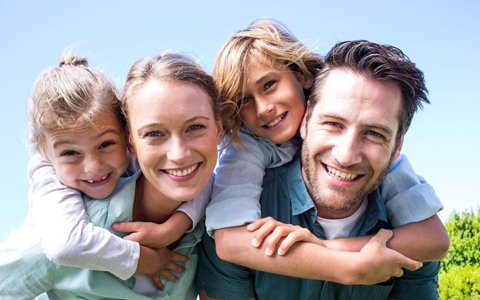 Here at Basin Dental, we want to make taking care of your family's oral health as easy as possible. We offer services to prevent dental issues from developing at all or growing into larger problems in the future.
If you want to improve your smile, we can safely and effectively help create the smile of your dreams with our cosmetic dentistry services. We can restore damaged or decayed teeth back to health with our restorative dental procedures. If you or your loved ones suffer from TMJ disorder or sleep apnea, we can also help provide you with relief.
Preventative Services
One of the most important things you can do to care for your teeth is to protect them from damage and decay. We offer dental cleanings to remove plaque and tartar that brushing and flossing can't eliminate.
We also provide dental exams to catch dental issues such as cavities, periodontal disease, and even signs of oral cancer. If we catch any problems, we'll do the work necessary to fix any damage and prevent further development.
Cosmetic Dentistry
If you have things you'd like to change about your smile, we can help. Whether you are looking to brighten your teeth, cover dental flaws, or otherwise improve your look, Basin Dental is the perfect place for you.
Our team will help give you the smile you've always wanted. We provide cosmetic dentistry services such as professional teeth whitening, veneers, and dental crowns.
Restorative Procedures
When you have tooth damage or decay, it can lead to an unsightly appearance or pain in your teeth. We want you to feel your best, so we offer restorative dental services that can give you restored teeth that blend in with your natural smile as closely as possible. We can quickly create dental crowns using our CEREC machine, and we also provide dental implants and root canal services.
TMJ and Sleep Apnea Therapy
Though you may have gotten used to headaches and other pain or discomfort caused by TMJ and sleep apnea, you don't have to deal with the effects of these conditions forever! Dr. Flitton and our team can help find solutions that will bring you comfort and freedom from pain.
Ask Our Knowledgeable Staff about General and Family Dentistry in Roy!
Give us a call today to set up an appointment! Our team at Basin Dental is happy to help you and your family with any of your dental needs.