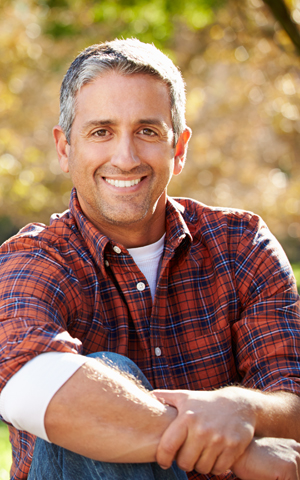 If you have a damaged or missing tooth, you may have gotten used to working around the issue. Can you imagine having a full set of teeth again? At Basin Dental, we offer dental implants to help provide you with a healthy smile once again. We use cutting-edge 3D cone beam technology to guide us with implant surgery, making the procedure accurate and quick.
Implant-Retained Dentures
Dental implants can be used to retain dentures for a more secure feel and fit. Implant-retained dentures can be removed, but will never slip, slide, or click out of place. You can eat your favorite foods and attend social gatherings without worrying about your dentures.
In addition to offering permanent-feeling dentures, implant-retained dentures also provide added health benefits. When you lose teeth, you lose jaw support. Implants can restore that support and keep your face looking youthful longer.
Natural-Looking Single Implants With Crowns
A dental implant combined with a crown is a fantastic solution for any gap in your smile. An implant is a metal post that can be surgically fused to your jawbone to keep your jaw and oral structures supported after tooth loss.
Once an implant is surgically placed into your mouth and your smile has been given time to heal, the implant is then restored with a beautiful, porcelain dental crown. Combining a single implant with a crown creates a perfect replacement tooth that looks and functions just like a natural tooth.
The Benefits of Dental Implants
Choosing to get a dental implant can offer a number of long-lasting benefits, including the following:
More Comfort | Imagine not having to work around your damaged or missing tooth anymore! With a dental implant, you can eat and speak as you normally would.
Sturdiness | As long as you maintain excellent oral hygiene habits, you shouldn't have to take any special care with your dental implants. Dental implants are reliable and can last for years.
Improved Appearance | Did you know that your teeth play an important role in the appearance of your face? When teeth are missing, this can cause your face to appear sunken. Implants can prevent this from happening. In addition, implants can provide you with a full smile you can be proud to share.
Greater Oral Health | Implants are meant to be a permanent part of your mouth, not just a quick fix. They are great for your oral health because they protect the jawbone and keep other teeth from shifting out of place.
Learn More About Dental Implants at Basin Dental in Roy, UT
Call our team at Basin Dental to learn more about dental implants and how they may be beneficial for you!